How's your homeschool year going so far?  Everything on track exactly how you planned?  It's not?  Me either!  We've had both expected and unexpected challenges this year, with the most problematic being that several parts of our curriculum are too easy for Bebop.  Wouldn't it be nice if you bought a curriculum package and could jump up or down a level mid year with no additional cost?  That's possible with the internet based homeschool resources from SchoolhouseTeachers.com.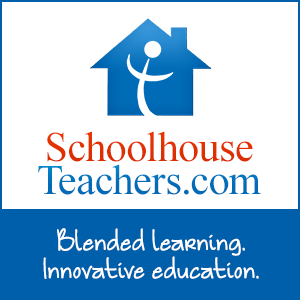 I've been asked to join the Schoolhouse Review Crew for 2015.  Periodically throughout the next year, I will be given homeschool products and resources to review.  As a welcome to the crew gift and first review assignment, I was provided with a Yearly Membership to SchoolhouseTeachers.com.  Both the Schoolhouse Review Crew and SchoolhouseTeachers.com are divisions of The Old Schoolhouse Magazine.  I'm very excited for the opportunities this will bring and the resources I will be able to share with you.
About SchoolhouseTeachers.com
SchoolhouseTeachers.com is a web based vault of homeschool resources.  There is really no other way to describe it!  The site has full lesson plans by grade and subject ranging from toddlers through high school.  My exploration of the site is mostly in the elementary classes and I found enough to build a complete core curriculum for Bebop if needed.  I'm not as familiar with all required subjects in middle and high school, but it appears as if you could do the same for older children.  There are also mini-units and family focused multi-age activities that could be used to supplement your existing curriculum.
What We've Used So Far
I've only had my membership to SchoolhouseTeachers.com for two weeks, so I have not used many resources yet.  The site is a bit overwhelming at first.  After receiving my login information, I spent about an hour exploring the various sections of the site.  Then I sat down with my plan from the beginning of the school year and picked apart what wasn't working for us.  When I went back to the website, I found a solution for every challenge I had.  The big ones:  new math curriculum for Bebop, suggested reading lists (in the elementary planner), & quiet time ideas for all three boys.
Doodad is "helping" Bebop color William the Conqueror
The Hands-On History figures line up pretty close with our history curriculum so I printed off William the Conqueror stand up figure and word search for Bebop.  He enjoyed both and I was able to give a quick enrichment lesson with no planning on my part!  I expect we will continue to use these when they line up with our Story of the World chapters.
What I Plan to Use Next Year
I've really struggled with selecting curriculum for Bebop.  His is an asynchronous learner meaning his abilities are uneven and out-of-sync compared to his peers.  (Thank you Colleen @ Raising Lifelong Learners for that definition.  Go read her blog is this sounds like your kid!)
Math by far has been the struggle on my end.  Bebop quickly learns anything I put in front of him and I often feel like I've wasted a lot of time preparing lessons that weren't necessary.  I really like how the elementary math lessons come with multi age assignments, so I can easily increase the complexity when needed.  I also like that for one price I can jump up or down a level as needed in all subjects.
In addition to the math lessons I also plan to use the family fitness and/or nutrition units.  In New York State we are required to have some kind of health and physical education every year.  My original plan was to take some classes locally to fulfill the requirement, but those options fell through.  I'm really happy to have these units to use!
I have no doubt the list of resources we use will grow over the next year!  There is a great deal of encouraging articles and back-issues of the Old Schoolhouse Magazine that I didn't even look through yet.  There is a wealth of homeschool resources at SchoolhouseTeachers.com.
What I Think of the Subscription…
When this review was announced, I did not expect to get so excited about it.  A full price membership is $12.95 per month or $139 if you pay for a full year.  That is a big ticket item!  We get a large curriculum package through our local homeschool co-op program, so I usually look for supplements in a much (much) lower price range.  However after spending time exploring the site, I can see how valuable this resource can be for homeschool families.  It's something I will be considering in our future homeschool budgets.
Currently there is a sale on the membership!  Between now and midnight on Christmas Day, you can buy a yearly membership at a 50% discount ($64.26) or a monthly membership at a 40% discount ($7.77/month).  Visit SchoolhouseTeachers.com for all the details!
I would very much recommend this for families new to homeschooling or those looking to explore multiple homeschooling approaches. Still need a Christmas gift for your favorite homeschool mom or dad?  Consider a SchoolhouseTeachers.com subscription!